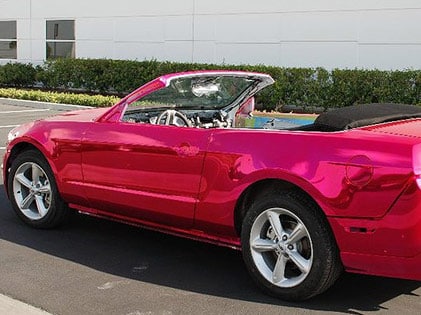 Your car or motorcycle is your baby. Perhaps you've been restoring it on your own for years. Weekend after weekend, you've put in hundreds of hours in your garage installing and updating each piece. Or perhaps you have a newer vehicle that's just aching for some custom details that are as unique as you are. At MPT Autobody, our customers come to us because they love their vehicles—and they want it to show.
One of our specialty auto body services that we offer, and we think you may want to consider, is chroming. Our spray-on chrome service allows you to add a touch of metallic to your vehicle. You can choose from a variety of finishes that give the appearance of real chrome, gold, or copper. If you've never considered chroming, here are three reasons why it might be right for you and your vehicle.
1. Stand out from the crowd.
You don't want your SUV or Jeep to look just like every other vehicle in Myrtle Beach. You want that head-turner. Chroming allows you to add that bit of bling or create a statement that gets the attention you want while out on the road.
2. Give your car a custom touch.
You're unique, and your car should be too. Whether you're restoring a vehicle or you just feel like your vehicle needs that "extra something," a spray-on chrome finish may be just the right choice. You can have our auto body specialists apply a chrome finish to almost any part of your car or to the entire car or motorcycle.
3. Add visual appeal.
Do you feel like your car is missing "something", but you can't quite put a finger on what it is? Perhaps a little bit of shine with our chroming services will add that custom touch you've been looking for.
If you're interested in learning more about our spray-on chroming, contact MPT Autobody today at (843) 957-7785. We're Myrtle Beach's premier auto body shop, offering a wide range of car, RV, motorcycle, boat, and other custom auto body services. We'll help you show a bit of love to your car so you can enjoy that custom ride for years to come.