Custom Metal Fabrication
When you need metal fabrication services for your RV, fleet, or military vehicles, MPT Autobody is the company to call. No more waiting up to eight weeks for your fabrication request to be completed. We can fabricate compartment doors, J-Wrap , Metal Skirting, and Fascia in as little as 4 days! Our quick turnaround time and unsurpassed quality earn us rave reviews from our customers. Contact us today for a free estimate at (843) 957-7785.
Request Custom Fabrication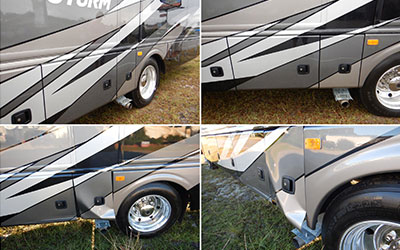 Fabrication Services We Offer
If you have the specifications for your metal parts needs, we can make it happen. We have the knowledge and experience needed to handle custom fabrication for almost any of your fabrication needs regarding cars, trucks, RVs, emergency, military, marine, and fleet vehicles. We specialize in:
RV, Fleet, and Military Compartment Doors
RV, Fleet, and Military Exterior Fascia
RV, Fleet, Military, and Emergency Vehicle Stairs, Railings, and Custom Bumpers
Diamond Plate, Stainless Steel, and Armor Plating Fabrication
RV Fabrication
Our team of expert professionals is equipped to fabricate an RV compartment door to your exact specifications and dimensions. We design side- or top-hinge doors with or without insulated cores for your RV. Worried you won't be able to find the exact fit? Think again. Baggage doors, propane doors, battery-access doors, generator access doors, refrigerator access doors, and double/combination doors are a few of the items we make.
Fleet Customization
We know you depend on your vehicles. Most companies don't have the luxury of waiting months while their vehicles are out of service due to modifications. Time is money, and we'll do everything we can to return your fleet of vehicles complete with custom fabrications or repairs in the time frame that you need them.
This is especially true for the military where lives are at risk and functional equipment is of the utmost importance. Our diamond plate and armor plating fabrication services will add the level of protection you need in dangerous situations.
Why Choose MPT?
No job is too big or too small for us.
We have the staff to handle the amount of work that a fleet of vehicles generates.
No need to replace a perfectly good older vehicle when we can provide the needed part. Take advantage of our custom fabrication services and ask us to design a discontinued or hard-to-find part for your older vehicles.
You can depend on us to for a timely turnaround. While manufacturers can take up to eight weeks to complete a custom metal fabrication, we can often compete it in just four days.
For all your metal fabrication needs including, brackets, channels, angle iron, doors, and fascia, contact MPT Autobody at (843) 957-7785. We proudly serve Myrtle Beach, SC, and the surrounding areas.
Request Custom Fabrication